Roof Restoration Systems

Strength and Durability Beyond Traditional Roofs
Need a technology-driven commercial roofing system that extends the life of your roof with less roof maintenance? Consider our high performance reinforced, fully-adhered and seamless AcryPly® Commercial Roofing Systems. With these commercial roofing systems you benefit from the latest product and installation advances in water-based coatings that include reinforced asphalt emulsion and Cool Roof elastomerics. You can custom-reinforce your roof restoration for extra toughness under adverse service conditions, and you benefit from long-term warranty options and the added confidence of using qualified professional applicators.
Key Benefits:
Durable weatherproofing. Much more resistant than traditional roofing to general chemical attack from precipitation and vent emissions.

Total UV blocking. Protects against the main cause of roof leaks and failure.

Superior reinforcement.

Often applied over existing roofs without costly tear-off and landfill waste.

No irritating and unpleasant odors.

No dangerous temperatures, hot asphalt or torches -- Only environmentally-friendly water-based systems.

Crews achieve much higher productivity.

▸

Your money goes into safe, "sustainable technology" materials, not excess labor.

Cool Roof Solution

The latest in highly reflective acrylic roof coating technology.

Advanced chemistry resistant to dirt pickup.

Reflectivity up to three times greater than dark BUR, EPDM, and ModBit roofing, means large energy savings and less roof maintenance for fast paybacks on roof investments.

Keeps heat off your roof, reducing membrane stress and heat-accelerated degradation.

Maximum Flexibility

Can be applied to the broadest range of substrates including BUR, Modified Bitumen, EPDM, PVC, TPO, Hypalon, Metal and Transite.

Very adaptable for high-rise buildings.

No inconvenience to occupants during application.

Installation can be phased based on your highest priority problem areas and budget constraints.
All Acrylic System
Emulsion & Acrylic System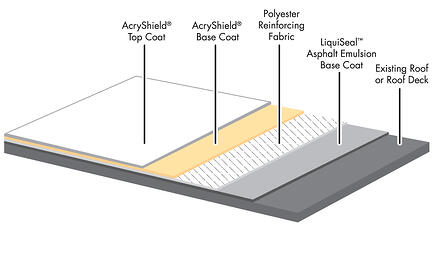 ---
Superior Waterproofing...Sustainable Roofing
There is a roofing system engineered to last the life of your building. AcryShield® SPF Roofing Systems do not degrade like other roofs. The redundant waterproofing from long-lasting sprayed polyurethane foam (SPF roof) and high-performance acrylic roof coating also eliminates UV attack and deterioration. Roof performance properties in year 15 are equivalent to the initial installation. Consider the National Roofing Foundation's comprehensive SPF sprayed polyurethane foam roof study where Dr. Rene M. Dupuis of Structural Research, Inc. concludes, "The field data…demonstrates that SPF roof systems provide long term performance and sustainability."
Achieve big boosts in your R-value with this fully-adhered, seamless, waterproofing system that has outstanding impact strength. Eliminate the most challenging problem of ponding water by custom tapering your roof as it is applied. All our AcryShield SPF Roofing Systems offer excellent value.
Outstanding Durability Cuts Your Life-Cycle Costs

A SPF roof lasts for decades and may meet Factory Mutual and UL standards.

Sustainable-easily renewed for the life of the building.

Guaranteed for up to 20 years.

Cool Roof System Slashes Your Energy Costs

Reflects the sun's damaging heat and UV rays.

Protects and insulates your building.

Reduces energy bills up to 30% with short pay-back periods.

Easy Installation Avoids Costly Disruptions to Your Business

Installs over existing roofs avoiding expensive and time-consuming tear-offs.

Simplifies roof details and improves waterproofing performance.

Self-flashes for a seamless one-inch minimum layer of roofing protection.
AcryShield SPF Roofing System
---

Truly Sustainable, "Green" Roofing
The SRC Silicone Roof Coating systems provide a "green" approach to coating your roof. These systems contains high solids, low VOC's, while offering a one-component, moisture-curing silicone roof coating system to restore and repair your existing roof. With its high solids content and absence of hydrocarbon solvents, this coating can be applied in excess of 40 mils in a single coat without blistering, while maintaining maximum adhesion.
Key Benefits:
True Sustainability

System application eliminates the need for tear-off and disposal.

Eliminates landfill waste.

Keeps the building interior safe from the elements during re-roofing.

Fewer toxic emissions during installation.

▸

Reduces energy costs by reflecting sunlight and radiant heat – keeping the roof surface cooler.

Maximum Protection

▸

Proprietary formulation eliminates the use of primers, in most instances, providing superior coating adhesion.

▸

Silicone is durable in extreme weather conditions and moderate ponding water.

Cost Savings

▸

Extends the life of your existing roof: concrete, modified bitumen, single-ply, metal roof panel, and smooth BUR.

▸

Significantly lowers labor and materials costs.

▸

Seamless systems reduce your ongoing maintenance costs.