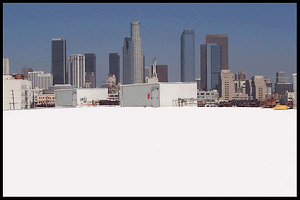 Solar Reflective Index (SRI) is important to understand when selecting a highly reflective roof coating that will help lower energy cooling costs.
The SRI is a calculation method using solar reflectance and thermal emittance values to determine the roof's overall capacity to refuse solar heat. Solar reflectance is the amount of solar energy or UV rays that is reflected away from the building, back into the atmosphere. The higher the solar reflectance is of a coating, the less heat the building has a chance to absorb. Thermal emittance is the relative ability of a roof to emit (or release) heat that has been absorbed. Therefore, the higher the SRI value is, the greater ability the coating has to reject solar heat absorption, maintaining a cooler indoor ambient air temperature without the use of an air conditioning.
The Cool Roof Rating Council is an excellent resource to finding out SRI, solar reflectance and thermal emittance values. They are an independent organization that evaluates reflectivity capabilities of roofing products initially and 3 years after installation. The 3- year or aged testing results provide evidence as to the quality and ingredients in the roof coating as well as how it will perform in the future. According to CRRC's Rated Product Directory National Coating's AcryShield A590 High Reflectancewhite roof coating provides the highest aged (or 3-year) reflectivity capabilities available to the roof coating market. The CRRC has tested and evaluated over 800 roof coatings and found that the AcryShield A590delivers the highest long-term solar reflectance and SRI rating of all the roof coatings they've tested after being in service on a rooftop for 3 years. (You can view the CRRC's rated product directory here.) This roof coating is excellent for rejecting heat absorption, lowering energy cooling costs and creating a cooler, more comfortable environment inside the building.
For more information on cool roof coatings and how they can help lower your energy costs, download our FREE Cool Roof Buyer's Guide.