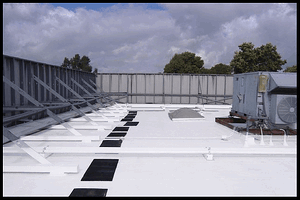 Do I Need a Roof Contractor to Apply a Roof Coating System?
It is recommended to use an Approved Applicator for your commercial or industrial roof (especially if you are looking for a warranty, you will need one); however, there are excellent roof coating products that are ideal for the end-user. Check out the Four Seasons Roof Coating product line.
Why Would You Coat a New Roof?
It is an excellent idea to coat a new roof for additional waterproofing and UV protection. Highly reflective roof coatings protect your rooftop against premature aging and damage caused by the sun's heat. These coating systems are monolithic, covering seams and joints for a smooth, flexible, durable roof top that will last.
Can Roof Coating Systems Restore an Old Roof?
Yes, roof coating systems are ideal for avoiding a costly and time consuming roof tear-off and replacement project. Roof coating restoration and maintenance systems have been used for 30 plus years to restore and repair failing roofs with multiple leaks, blisters, alligorating, adhesion issues, tear's in joints and seams, and more. Check out some project profiles for more information.
What are the Top 5 Roof Coating Benefits?
Cost Effective – Substantially lower overall cost compared to traditional roof replacements, lowers energy cooling costs, decreases roof maintenance costs and extends the overall life of the roof.
Seamless, monolithic weatherproofingdelivers a watertight and flexible surface.
Sustainability- Re-coated every 10+ years to lengthen the roof-life, renew the reflectivity, and ensure excellent waterproofing capabilities.
No Major Disruptions to The Work Environment During Installation
Reflectivityprovides additional protection to your roofs surface, longer roof lifespan, and lower energy cooling costs.
How Long Do Roof Coatings Last?
Typically a roof coating system can last 10 to 20 years depending on the type of roof coating used on the roof. These coating systems can also be recoated every 10-15 years for a truly sustainable rooftop that will never need to be torn off and replaced.
For information on National Coatings' cost effective roof coating systems that provide a watertight, seamless membrane with quick and quiet installation, energy savings, and reduced roof maintenance, download our FREE Product Brochure.