---
National Coatings is committed to encouraging the use of our roof coating systems in restoration, re-roofing and new construction applications where we can confidently provide 5 to 20 years of additional leak-free performance. We value our products and our customers so when we provide a warranty with one of our roofing systems, we also ensure the following elements are completed to ensure successful waterproofing: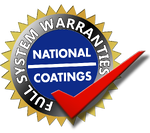 Comprehensive Roof Evaluation and Analysis
Customized Installation Specifications
Proven, High Performance Materials
Use of Approved Applicators
In Progress and Post Installation Inspections
A Plan for Preventative and Continued Maintenance
Our roofing systems are designed to be easily renewed by utilizing appropriate reinforcement and recoat approaches. NCC firmly recognizes that roof life extension yields financial returns far above traditional roof replacement. Therefore, we strongly suggest that a proper roof maintenance program is put into practice. Let us help you figure out the ideal roofing system for your roof, click the box below!