Metal roofing has been used for centuries with great success in many different environments due to their strength and ease of installation. Unfortunately, over time the grommets and sealants used in these roofs can weather and fail causing leaks, rust and weakened performance capabilities. But don't let that scare you, National Coatings' AcryShield Roof Management System for Metal Roofs is fluid applied directly over your aged metal roof for an environmentally-friendly solution that provides long-term durability, protection and sustainability.
We have a long history of success restoring and enhancing the performance of metal roofs. Our products have more UV blocking pigments; are richer in performance polymers providing strength, elasticity, adhesion and durability; have few water sensitive ingredients; and incorporate advanced microbial protection. Our products are compliant with local and state building codes, environmental agencies, and meet rigorous standards set by ASTM, FM, ICC-ES, UL, ENERGY STAR, CRRC, Miami-Dade County, and LEED.
AcryShield Roof Management System for Metal Roofs
System Overview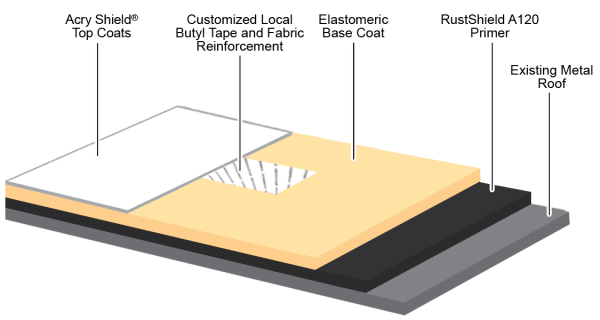 Step 1: Primer
RustShield A120 high performance rust primer inhibits future rust growth after it is removed in the preparation process.

Step 2: Elastomeric Base Coat
AcryShield base coats provide excellent waterproofing, superior adhesion, and resistance to ponded water.

Step 3: Custom Localized Reinforcement Where Necessary
Butyl tape, butyl caps, AcryFlex and fabric on all seams and screw penetrations ensure a watertight building.

Step 4: Elastomeric Top Coat
AcryShield top coats are engineered to the highest standards in the acrylic coating industry. These top coats offer high reflectance, durability, and a history of proven performance.